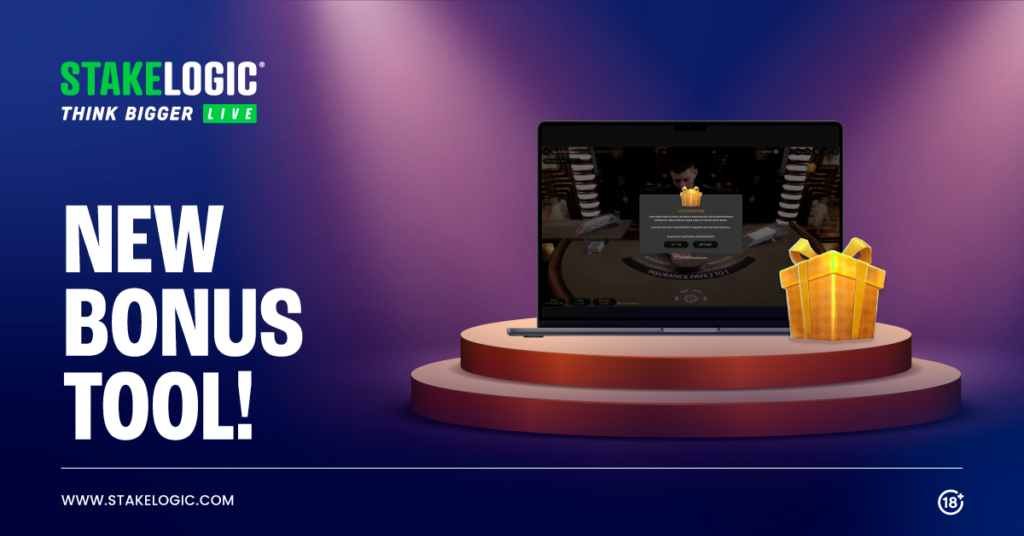 Operators can take player engagement to the next level with a promotions widget that allows them to deliver personalised offers to players in real-time
Malta: 14th September 2023 – Stakelogic Live, the tier one provider of live casino content, has revolutionised the way that operators run promotions across live games with the launch of its smart Bonus Tool.
Operators face three key challenges when it comes to promotions for live content – engaging customers with dynamic, real-time promotions; customising offers and tailoring them to specific games and players; and delivering instant gratification to meet modern player expectations.
Stakelogic Live's powerful Bonus Tool allows operators to overcome all of these challenges by running dynamic promotions with a player-centric approach, underpinned by unrivalled versatility. Operators can create, customise and control all promotions in real-time while players can choose to opt in and opt out with live bonus notifications delivered via the promotion widget. The range of promos available is broad, taking in classic bonuses, leader board promotions and more.
Some of the key features include:
Instant rewards – This can be automatic, manual or tailored to specific player achievements.
Push-Notifications – This provides real-time engagement for both online and offline players.
Comprehensive reporting – This allows operators to access analytical reports to optimise promotions.
Ultimately, Stakelogic Live's Bonus Tool allows operators to deliver an enhanced player experience that includes missions and instant rewards while increasing playtime and revenue as players stay longer and play more. This is achieved while having full control via a seamless back office integration with operator-level access to ensure high levels of security.
The Bonus Tool is incredibly easy to use and it takes just four quick steps to deploy a promotion.
Step 1 – Access the tool via the back office.
Step 2 – Create and customise promotions.
Step 3 – Player engagement via the promo widget.
Step 4 – Rewards are instantly distributed automatically or manually.
Dejan Loncar, Head of Live Casino at Stakelogic Live, said: "We have quickly become a must-have live casino provider for operators in markets around the world thanks to our highly entertaining games that deliver an authentic experience that players are seeking.
But we wanted to take this to the next level and allow our operator partners to run promotions and bonuses in a way that delivers real value to each player. Our new Bonus Tool allows them to do just that, offering personalised promotions that truly engage.
Operators can use it to not only exceed player expectations but to ultimately increase the time they spend in the game, driving revenues and brand loyalty to new heights."
SIGN UP FOR
OUR NEWSLETTER!