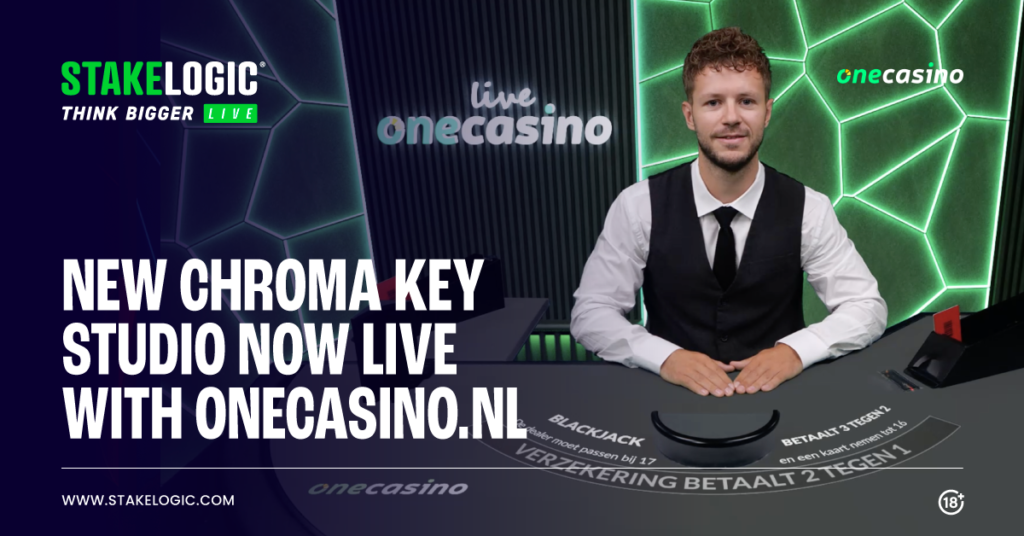 OneCasino joins the prestigious Chroma Key Studio roster, elevating player engagement through customized live experiences.
Malta: 4th September 2023 – Stakelogic Live teams up with OneCasino, taking live casino entertainment to new heights. OneCasino becomes the second player to make its mark within Stakelogic Live's revolutionary Chroma Key Studio.
The Chroma Key Studio is an innovation powerhouse, giving life to custom live experiences. OneCasino is set to transform gaming with this cutting-edge feature, redefining the competition.
Based in the Netherlands, Stakelogic Live's Chroma Key Studio is where Dutch-streamed games shine. Operators effortlessly weave their branding onto gaming tables, starting with Absolute Blackjack and European Roulette.
Absolute Blackjack is the star, accommodating an infinite number of players at a single table, ushering in a new era of scalability and underlining Stakelogic Live's commitment to excellence.
OneCasino joins the ranks of operators embracing Stakelogic Live's Chroma Key Studio. This feature lets them craft tailored, branded live content with remarkable cost efficiency. OneCasino's unique Dutch market position shines through its all-in-one app, offering players an exciting platform for personalized live casino experiences.
Olga Bajela, Chief Commercial Officer at Stakelogic Live, remarked, "OneCasino's integration into our expanding Chroma Key Studio lineup marks a pivotal milestone for Stakelogic Live. The studio empowers operators with unmatched table customization, facilitating unique and immersive player experiences. We extend a warm welcome to OneCasino to our Chroma Key Studio, as it embarks on delivering captivating and deeply branded experiences to its players."
Mark Schram, CEO at OneCasino, added, "The allure of live casino experiences holds significant sway in the Netherlands, and as operators, our objective is to provide players with experiences that truly resonate. Harnessing Stakelogic Live's Chroma Key Studio empowers us to achieve this, forging a connection between our brand and our players. This step strengthens confidence and reinforces OneCasino's position as the ultimate hub for live content in the Dutch market."
SIGN UP FOR
OUR NEWSLETTER!