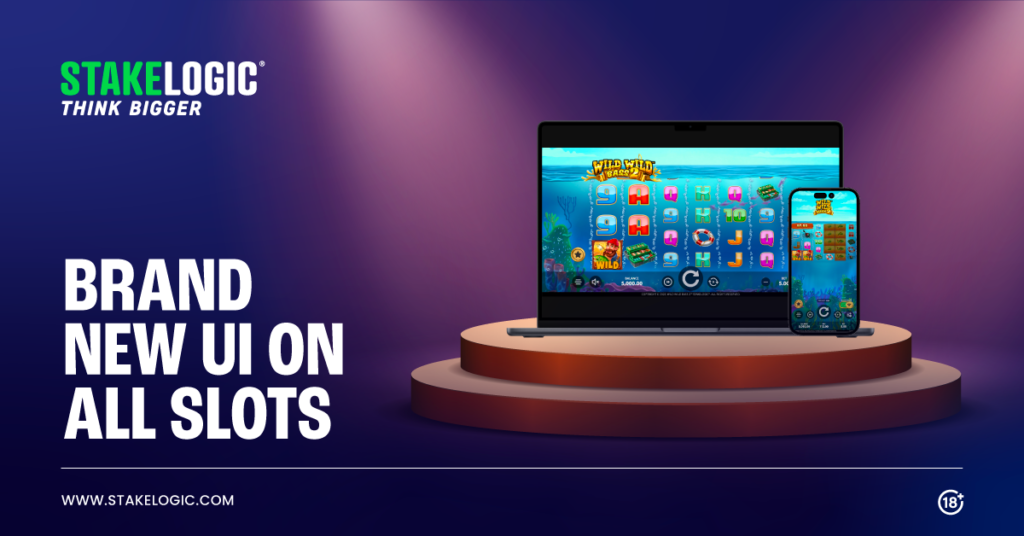 Stakelogic creates a whole new design for its slot catalogue. These updates come in preparation for a new innovation coming out on the 9th of November!
Malta: 25th August 2023 – Get ready for a revamped and exhilarating gaming adventure as Stakelogic proudly presents its latest update to the user interface (UI) of all of its 250+ renowned slot games. This fresh upgrade brings a new level of engagement, making players' gaming escapades even more captivating and rewarding.
Stakelogic has always been at the forefront of innovation, and this enhancement is no exception. With an emphasis on player experience, the updated UI ensures seamless navigation and an immersive interface that lets players delve deep into the heart of the game.
The significance of this UI enhancement is further amplified by a forthcoming innovative feature, slated to be revealed on the 9th of November. Though details are shrouded in secrecy for now, the promise of this upcoming feature hints at a revolutionary leap forward in the gaming industry, aiming to redefine the gaming landscape.
The UI upgrade profoundly enhances the player's experience, making interactions with a diverse array of slots more intuitive and visually appealing. The redesigned UI boasts a responsive design that seamlessly adapts to various devices, delivering a consistent gaming interface across desktops, mobiles and tablets.
Notably, Stakelogic's beloved features, Super Stake and Buy Bonus, have undergone a complete reimagination within the updated UI. This transformation ensures a fresh look and a seamless experience, enabling players to enjoy these features in new ways.
Mobile gamers will be delighted in the UI's optimization for handheld devices. The user-friendly design ensures a superior gaming experience while on the move or relaxing at home. The intuitive layout maintains a high-quality experience across diverse devices, ensuring consistent engagement.
Stephan van den Oetelaar, CEO at Stakelogic, said: "With the updated UI, Stakelogic is setting a new standard for interactive and captivating gaming experiences. This enhancement reflects our dedication to delivering innovation and excellence to players and partners alike.
We cannot wait to show you what we have in store for November. It's a feature we've been working hard to ensure that it will resonate with our clients and players alike! It's sure to shake up the industry!"
SIGN UP FOR
OUR NEWSLETTER!