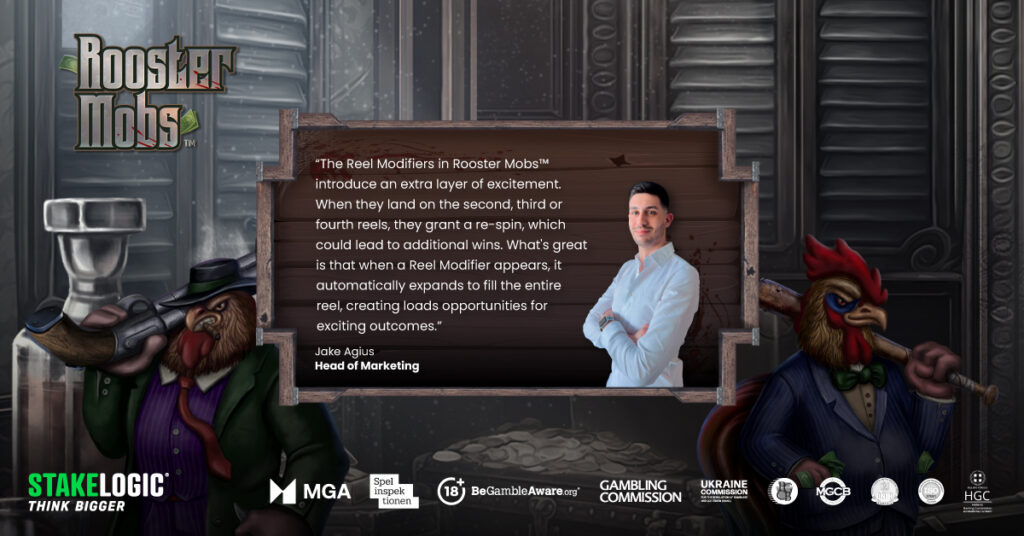 Join us for an exclusive chat with Jake Agius, our Head of Marketing, as he shares the behind-the-scenes insights and inspirations driving the excitement around our latest game, Rooster Mobs™ by Stakelogic.
What stands out about the Dynamic Symbols feature in Rooster Mobs™, and how does it contribute to the overall player experience?
The Dynamic Symbols feature is where Rooster Mobs™ truly stands out. It animates the reels, creating an engaging visual experience that heightens the anticipation to win big. This feature ensures that every spin is an immersive encounter, setting the game apart from others in its category.
Could you walk us through the significance of the Reel Modifiers in Rooster Mobs™ and how they elevate the gameplay?
The Reel Modifiers in Rooster Mobs™ introduce an extra layer of excitement. When they land on the second, third or fourth reels, they grant a re-spin, which could lead to additional wins. What's great is that when a Reel Modifier appears, it automatically expands to fill the entire reel, creating loads opportunities for exciting outcomes.
The Free Spins feature with the gamble option in Rooster Mobs™ sounds exhilarating. Can you share some strategic insights on when to take that gamble for additional spins?
It's all about that extra thrill, right? If you're feeling lucky, I'd say go for it! Turning those initial 8 Free Spins into a dozen could lead to some seriously impressive wins. But of course, no pressure. If you're playing it safe, the initial 8 Free Spins are there for the taking.
What kind of experience can players expect when they opt for the Buy Bonus feature?
Its like an express pass to the best parts of the game. If you're all about the thrill, you can dive straight into the heart of the action. For a hundred times your bet, you're in for a shot at the Free Spins feature. Alternatively, the adventure can still be yours for 50 times your bet. It'd the perfect option for players who want a front-row seat to the most thrilling bonus rounds for an unforgettable gaming experience.
You can try out the slot here!
SIGN UP FOR
OUR NEWSLETTER!