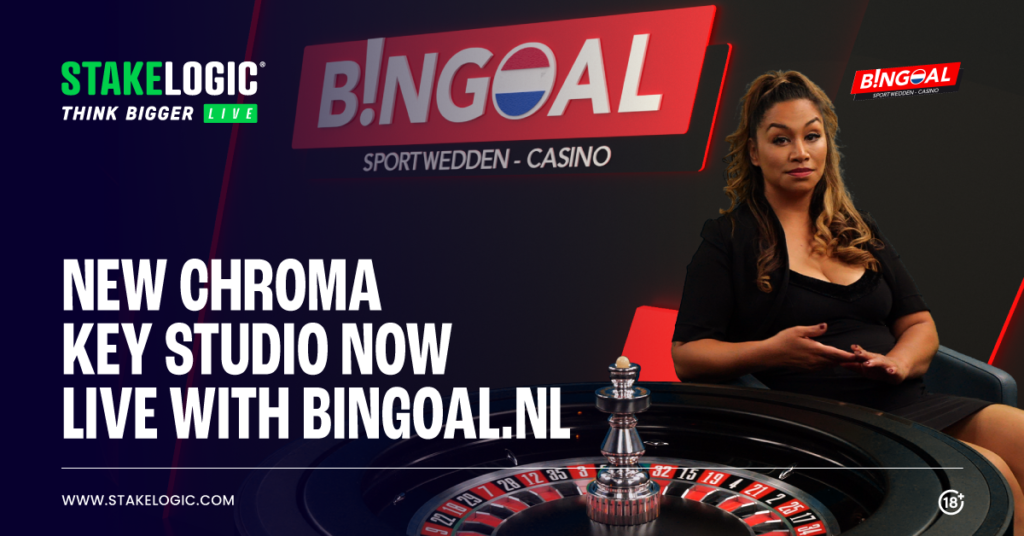 Bingoal.nl is the first operator to take advantage of the unrivalled branding and scalability opportunities Stakelogic Live's new studio offers!
Malta: 25th August 2023 – Stakelogic Live, the leading provider of premium live casino content to operators on core regulated markets across Europe and internationally, has launched a brand-new studio with Dutch operator, Bingoal.nl the first to take advantage of what it has to offer.
The Chroma Key Studio makes use of a green screen that allows for customisation and personalisation which Bingoal.nl will use to deliver unique live experiences to its players, allowing it to further stand out from its rival brands.
Stakelogic Live's first Chroma Key Studio is based in the Netherlands with games streamed in Dutch. Multiple operators can project their branding onto each table with three games currently being offered including:
• 7 Seat Blackjack
• Absolute Blackjack
• European Roulette
Bingoal.nl is the first operator to take advantage of Stakelogic Live's Chroma Key Studio but with other operators set to leverage the state-of-the-art facility and ability to launch branded, customised live content easily and efficiently – both in terms of cost and deployment.
This is just another way in which Stakelogic Live keeps changing the game for live content, with the provider now a must-have for operators in core European and international markets including the Netherlands where Stakelogic has partnered with most of the tier-one brands.
Olga Bajela, CCO at Stakelogic Live, said: "Launching our Chroma Key Studio in the Netherlands is a major milestone for Stakelogic Live. It allows us to offer operators unrivalled branding and customisation of tables so that they can offer truly unique and engaging player experiences.
That this can be offered to multiple operators from a single table means this is infinitely scalable, benefitting both Stakelogic Live and the operators that partner with us. We are thrilled to be debuting our Chroma Key Studio with Bingoal.nl and for its players to be the first to enjoy the more deeply branded experience it can now offer."
Dany Salmon, Casino Product Manager at Bingoal.nl, added: "Live casino is hugely popular in the Netherlands and as an operator, it's important for us to stand out and deliver unique experiences to our players.
Using Stakelogic Live's Chroma Key Studio allows us to do this in a way that strengthens the relationship between our brand and the player – building trust and the association between players and Bingoal.nl as being the go-to destination for live content in the Netherlands."
SIGN UP FOR
OUR NEWSLETTER!