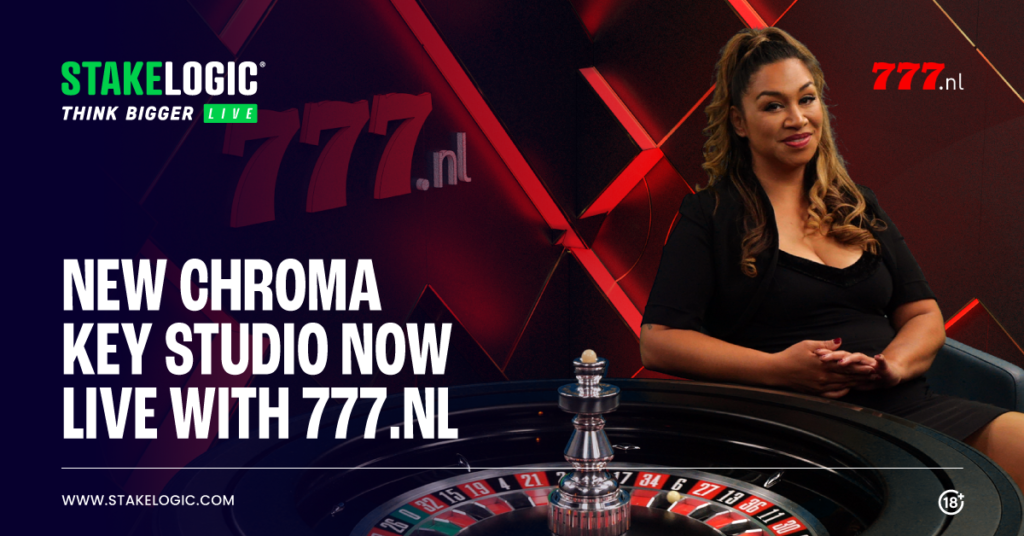 777.nl joins Stakelogic Live's innovative Chroma Key Studio, redefining player experiences with unparalleled branding and scalability
Malta: 31st August 2023 – Stakelogic Live, the distinguished provider of premium live casino content across core regulated European markets and beyond, is excited to announce its latest collaboration with Dutch operator 777.nl. This partnership marks 777.nl as the newest addition to Stakelogic Live's pioneering Chroma Key Studio initiative.
Introducing the Chroma Key Studio, a groundbreaking technology characterized by its dynamic green screen that allows for unrivalled customization and personalization. 777.nl leverages this advanced feature to deliver one-of-a-kind live experiences, differentiating itself within the competitive landscape.
Positioned in the Netherlands, Stakelogic Live's Chroma Key Studio offers Dutch-streamed games that revolutionize player interaction. Operators now have the ability to seamlessly integrate their distinct branding onto each table. The initial lineup includes; 7 Seat Blackjack, European Roulette and a new addition to Stakelogic Live's lobby, Absolute Blackjack.
Absolute Blackjack is designed to accommodate an unlimited number of players at a single table, ushering in an unprecedented era of scalability. This innovation not only benefits operators but also further establishes Stakelogic Live's prominence and performance capabilities.
This collaboration reaffirms Stakelogic Live's continuous commitment to reshaping the live content landscape. The company's reputation as a core provider remains steadfast within both European and international markets. The Netherlands, in particular, emerges as a focal point, with Stakelogic Live partnering with the most prominent tier-one brands.
Olga Bajela, CCO at Stakelogic Live, commented, "Welcoming 777.nl to our expanding Chroma Key Studio lineup is a significant milestone for Stakelogic Live. The studio empowers operators with unprecedented table customization, paving the way for truly unique and captivating player experiences.
This innovation's scalability benefits not only operators but also cements the collaborative success between Stakelogic Live and its partners. We are thrilled to have 777.nl onboard, delivering an immersive and deeply branded experience to its players."
Cesar Paredes, Country Manager at 777.nl, added, "Live casino experiences hold immense popularity within the Netherlands, and as operators, our goal is to offer players experiences that stand out. This is why we are very pleased and proud of this partnership with Stakelogic Live's Chroma Key studio.
Furthermore, this project is in line with our desire to always forge a strong bond between our players and our brand 777. Casino777 strives to satisfy thousands of players and we are ready to demonstrate once again that our brand is the ultimate destination for live content in the Netherlands."
SIGN UP FOR
OUR NEWSLETTER!